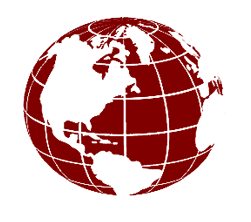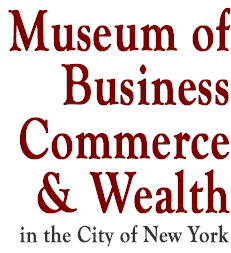 410 East 64th Street
Office Suite 43
New York, NY 10065
t. 646.944.3412
or 917.330.0132
or 917.378.0549
email
staff@museumofbusiness-commerce-wealth.org
or jb_morgan@att.net

Founded April A.D. 2003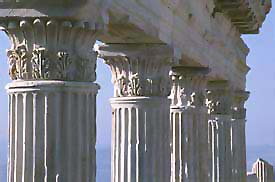 Mission Statement for the Museum of Business Commerce and Wealth

The Museum of Business, Commerce and Wealth has been launched under the auspices of the Historic Collection of Business, Commerce and Wealth. The idea of a museum specifically dedicated to the study, understanding and dissemination of the knowledge, creation and influence of business, commerce and wealth is long overdue, and now, happily and significantly, here.
The tripartite focus of this museum will be: business (small and large) and their histories; penultimately, corporations that have metamorphosed into huge conglomerates and transnationals; and, ultimately, enterprising individuals who by dint of hard work and brains, have created companies and amassed impressive wealth. The museum will assuredly posit no graceless "lifestyle of the rich and famous" ethos, but, will be more a place for the robust inquiry into the role that businesses and companies have had on the lives of the citizenry. Moreover, it will look at the democratic impulses that have animated the wealthy.
The last century and millennium witnessed the remarkable and triumphant rise of commerce and its concomitant: wealth.
The creation of both have occurred principally in liberal, relaxed democratic societies, seedbed of wealth. Aside from the usual brick and mortar building the museum will be a virtual one, with a significant cyber presence. Committed as it is to the scholarly study of business, commerce and wealth, the museum will partner with all educational institutes and organizations (on six continents) to mount exhibits and promote learning. The financial underpinning for the museum will come from all sources of good will: individuals, groups, companies, organizations and governments.
Museum of Business, Commerce and Wealth is committed to the appreciation of the three subjects in its name, an as such will mount exhibits covering these areas:
the transformation of the world through development in transportation: rail, automobile and airplane

impact of recordings, telephone, cinema, radio and television

the sturdy perennial that is the small business

rise of the communications industry

banking, financial, insurance services

history of household products and manufactures (washing and dishwashing machines, stoves, refrigerators, air-conditioners, microwaves, etc.)

fast food products (the "t. v. dinner", MacDonald's, Burger King, Wendy's, KFC, Boston Market, White Castle, Coca Cola, Pepsi and so worth)

rise of consumer financial instruments, bonds, stocks, credit cards

manufacturing

emergence of hotels and lodgings (Hilton, Marriott, Howard Johnson's, Holiday Inn, etc.)

female run businesses

The Dot-com Bubble

Middle Eastern industries and wealth

Latin American, African, and Caribbean industries

petroleum industry

impact of immigrant-owned business

shipping industry

the underground economy

corporate malfeasance

globalization and its downside

diamond and mineral industries

black-owned businesses

the genesis of the Internet, computer (and p.c.) and the complete social, political, educational and cultural revolution they have wrought

ferocity of the Asian tiger economies

the Microloan programs

European, Canadian and Australian giants

Japanese, Korean, Singaporean, Chinese, Taiwanese and South Asian high-tech and banking corporations

American behemoths (Microsoft, Hewlett-Packard, IBM, Dell, Apple, Macintosh, Oracle, Gateway, etc.)

The genius of philanthropy